CityForm-India: the beginning of a new research network
On 21 August, 2008, in New Delhi, the Cityform-India: Sustainable Urban Form for Indian Cities conference was held at The National Institute of Urban Affairs (NIUA), co-organized by the Oxford Institute for Sustainable Development (OISD). The conference focused on the need to examine sustainable urban form in India, where cities are growing at a rapid rate. Delegates came from all over India to attend and we are very grateful to Dr. M. Ramachandran, Secretary, Ministry of Urban Development who opened the conference (click here for his inaugural address).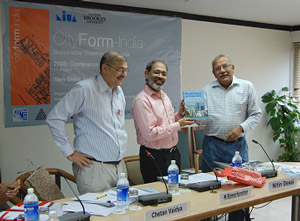 Prof. Mike Jenks, keynote speaker, discussed the importance of sustainable urban form and the role of density, polycentric and connected urban development and inclusive design in the pursuit of sustainability in the urban context.
Dr Shibu Raman and Dr Nicola Dempsey presented findings from the CityForm-UK project, before delegates were invited to break out into a series of parallel sessions how urban form - the size, shape, density, land uses and layouts of a city - can influence a range of issues: social, economic and environmental sustainability, transport use, poverty alleviation, infrastructure and urban governance.
A number of high-profile academics and practitioners gave papers in the workshops including: Prof. Glen Bramley (Heriot-Watt University), Prof. K.T. Ravindran (SPA), Manvita Baradi (Urban Management Center), Prof. Utpal Sharma (CEPT), Dr Ramin Keivani (OBU) and Prof. Sergio Porta (Politecnico di Milano).
Other partners in the conference included British Council, Centre for Environmental Planning and Technology (CEPT) Ahmedabad, School of Planning and Architecture (SPA) Delhi, Indian Institute of Technology Mumbai (IIT-Mumbai) and Delhi (IIT-Delhi), Vastu Shilpa Foundation, Ahmedabad, Delhi School of Economics and the Institute of Urban Designers India.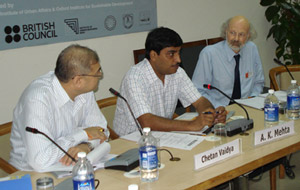 After the conference in Delhi, Prof. Mike Jenks, Dr Shibu Raman and Dr Nicola Dempsey embarked on a lecture tour. Prof. Jenks gave a lecture at the Charles Correa-designed British Council, Delhi entitled The Compact and Sustainable City: avoiding 'The Day after Tomorrow'. Prof. Jenks also travelled to Mumbai to give the lecture The Compact and Sustainable City. Both lectures were sponsored by the British Council.
Dr Raman and Dr Dempsey travelled to Chandigarh to lecture on Climate Change and Sustainability in India: What About Urban Form? Findings from CityForm-UK at the Sustainable Development and Climate Change seminar. This event was sponsored by The Punjab State Council for Science and Technology, Chandigarh, in collaboration with the Association of British Scholars (ABS).
Dr Raman and Dr Dempsey also gave a lecture at Centre for Environmental Planning and Technology (CEPT), Ahmedabad entitled CityForm-India: Sustainable Development in Indian Cities which was sponsored by the British Library Ahmedabad.
The team attracted a lot of media coverage while in India. Click on the links below for more information.
CityForm-India Conference, Delhi at NIUA
Sustainable Development and Climate Change seminar, Chandigarh
Jenks's lecture, British Council, Mumbai